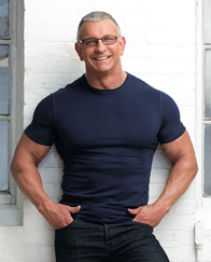 The Girls Leadership Academy of Wilmington (GLOW) will welcome celebrity chef Robert Irvine in February to share his signature culinary style in support of the academy, according to a news release.
As in past years, three events are scheduled: an exclusive dinner for up to 12 couples in a private home Feb. 7, and breakfast and lunch events to be held Feb. 8 at the Country Club of Landfall. Chef Irvine will plan the menus for each event and work with both Food Network and Wilmington chefs, the release stated.
Robert Irvine is best known for hosting some of the Food Network's highest-rated shows, including
Restaurant: Impossible
and
Dinner: Impossible
. Currently, Irvine is on tour with
Robert Irvine: Live
—an interactive culinary experience. He is the author of Impossible to Easy and Mission: Cook
,
as well as Fit Fuel, a healthy living guide.
Irvine is the fourth Food Network star to visit Wilmington in support of GLOW Academy, North Carolina's only single-gender public charter school. Emeril Lagasse hosted events in 2016, followed by Giada De Laurentiis in 2017 and Guy Fieri in 2018.
"GLOW Academy Founder Judy Girard, who was president of the Food Network from 1994 to 2004, is proud to have the support of each of these remarkable chefs," the release stated.
Sponsorship opportunities are available with benefits, including personalized and autographed books, meet-and-greet occasions, and premiere seating. Inquiries about sponsorships should be directed to
Todd Godbey at GLOW Academy
.
Tables of 10 will go on sale Dec. 1, and individual tickets, if still available, will go on sale Jan. 2.
A
permanent campus for GLOW
is under construction near Maides Park in Wilmington.
For more information about GLOW, visit
www.glowacademy.net
.