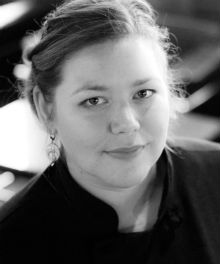 Kirsten Mitchell, a well-known figure in the Wilmington dining scene, has announced that she plans to open her own restaurant soon, potentially by early October.
A self-trained, award-winning chef, Mitchell said the concept is a tiki bar featuring Caribbean cuisine, with influences from the Bahamas and South Florida, where she spent much of her childhood, as well as from Jamaica and French Polynesia.
"All my favorite things that I grew up with will be on the menu," Mitchell said.
The daughter of restaurant owners in western North Carolina, Mitchell began her training at a young age. During her time in Wilmington, she has worked for 1900 Restaurant & Lounge, Grand Cru Food & Wine and Ceviche's, and was the founder of Vittles Food Truck.
"She was actually almost born in a restaurant," joked her mother, Donna Mitchell, who will be helping out with front-of-the-house management at the new restaurant, which has yet to be named.
Mitchell's new venture will be located at 718 N. Lake Park Blvd., the former home of Holy Smoke That's BBQ! The building is currently undergoing a significant cosmetic renovation, which includes closing off part of the currently open kitchen. The kitchen itself is well designed and equipped said Mitchell, and includes a smoker, which will allow her to serve smoked fish spreads and platters, as well as smoked oysters.
Mitchell has always dreamt of owning her own restaurant and she researched locations throughout the state before deciding on Carolina Beach.
She said that she lived in Carolina Beach when she first came to the area nine years ago, and the dining options at that time were very limited.
"The area has changed a lot and I'm excited to offer another option for the locals and visitors to Carolina Beach," Mitchell said.
While Mitchell is somewhat leery of opening at the start of the off- season on the island, she said she feels that the Wilmington market is becoming quite saturated. It is her hope to create a fun, whimsical destination, where diners will find flavorful food and a laid-back, tropical vibe.
"I'd love to make this a destination for a little vacation," Mitchell said.
Mitchell said she hopes to open the restaurant in early October.
Have a tip for Restaurant Roundup? Email

[email protected]

.