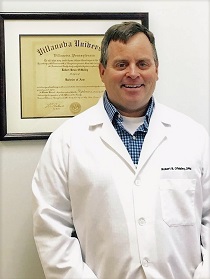 EmergeOrtho will have another Wilmington location for the group practice with the addition of O'Malley Foot & Ankle.
The merger with Robert O'Malley, a board-certified podiatric surgeon, will add to EmergeOrtho's foot and ankle specialty, according to a news release from the group practice. O'Malley Foot & Ankle will join EmergeOrtho on Dec. 1.
O'Malley will continue to see patients at his current location at 7419 Market St., Suite C, officials said in the release.
Jennifer Loper, a spokeswoman for EmergeOrtho, said the Market Street location in the Ogden area will be rebranded to EmergeOrtho podiatry. Temporary signage will be visible at the new location while the transition is taking place to help with the patient base at that office, she said.
"With Dr. Robert O'Malley now joining EmergeOrtho, we now operate nine orthopedic and 10 physical therapy practices in our Wilmington division of EmergeOrtho, which are located in New Hanover, Brunswick and Onslow counties," Loper said. "We are very excited to have him as a part of our practice ... He is an amazing physician and surgeon and we are very pleased he has decided to join EmergeOrtho."
This will be the second EmergeOrtho location on Market Street. EmergeOrtho has another medical office in the Porters Neck area, as well as two additional medical offices in Wilmington and a therapy office in Carolina Beach.
EmergeOrtho currently employs 384 people in its Wilmington division and more than 1,500 people statewide, Loper said.
O'Malley treats patients for many types of foot and heel pain, as well as a range of conditions and diseases affecting those areas of the body, officials said in the release. Recently trained in hyperbaric medicine, O'Malley has been selected to treat wound patients at the New Hanover Regional Medical Center Wound Care Clinic, which opened Monday.
"While Dr. O'Malley is unquestionably a skilled and talented surgeon, he is known for considering surgery as one of the many options for various health conditions related to heel and foot pain," Stephen DeBiasi, CEO of the Wilmington Division of EmergeOrtho, said in the release.
O'Malley is on staff at all NHRMC campuses, Wilmington SurgCare and Atlantic SurgiCenter. He also volunteers with Cape Fear Medical Clinic.
"We are pleased to welcome Dr. Robert O'Malley to our medical team," DeBiasi said. "… Dr. O'Malley's experience and expertise will expand our patients' access to an exceptional level of care in an area that is a common concern."
EmergeOrtho, with statewide headquarters in Durham, is a group practice with 49 offices in 21 counties in North Carolina. Previously OrthoWilmington, the group practice
merged with four practices across the state
under the EmergeOrtho name in August 2016.