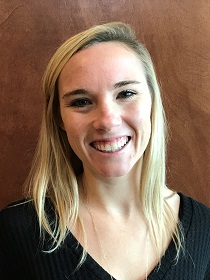 Elizabeth Stelzenmuller has been hired as the new events and digital assistant with the Greater Wilmington Business Journal and WILMA magazine.
Stelzenmuller joined the publications Nov. 26.
Stelzenmuller previously spent two years at Brunswick Forest Realty, where she first began as a front desk coordinator. She was promoted a year later to digital marketing assistant.
Stelzenmuller graduated from East Carolina University with a bachelor's degree in hospitality management – special events and conventions and a minor in business administration.
She interned with Wilmington Downtown Inc. as an events and marketing intern for its Downtown Sundown Concert Series in the summer of 2013.
Stelzenmuller worked for two years in the U.S. Virgin Islands as an assistant tour and event coordinator for Active Island Tours and Events. She was also a crew member with Topsails Inc.
"I'm extremely excited about the opportunity to join this close-knit team and look forward to growing with the Greater Wilmington Business Journal, WILMA magazine and the Women to Watch Initiative," Stelzenmuller said.