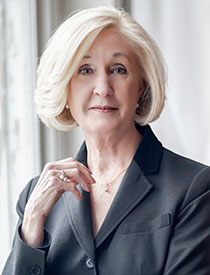 The New Hanover County Airport Authority has appointed its first female chair and has added a new member, according to a news release.

Donna Girardot is the first female chair of the airport authority since it was established in 1989, officials said in the news release. Officers were elected at the airport authority meeting on July 11.
She was first appointed by the New Hanover County Commissioners to the airport authority in September 2014.
Girardot was elected secretary by the authority July 2017-June 2018 and reappointed by the county commissioners for a second term June 2018-June 2022.

The airport authority once again elected Girardot as an officer, this time as chair. She will serve as chair of the New Hanover County Airport Authority Board July-June 2019.

Girardot assumes the role during a time when the Wilmington International Airport (ILM) is growing, officials said. This year it has added new nonstop flights, seen more passenger traffic and is preparing for its ILM's upcoming terminal expansion.

"I feel privileged to have the opportunity to play a part in such a vibrant and growing airport that continues to endeavor to meet the expectations of our regional community. With the addition of our new carrier, United Airlines and our additional flights to Dallas-Ft. Worth, Chicago, Washington's Dulles and Reagan airports and the terminal expansion that is underway -- it's a great time to Fly ILM," Girardot said in the release.


In addition, Spruill Thompson (right) was appointed to the New Hanover Airport Authority by commissioners and will serve a four-year term (through June 30, 2022).

Thompson is senior vice president of Cape Fear Commercial. He has a diverse background in the real estate industry with more than 20 years of experience in business brokerage, business valuation, development, investment properties, property management, sales and leasing, as well as a particular focus on 1031 tax-deferred exchanges, officials said in the release.

Prior to joining the firm, Thompson served as president and CEO of 1st Atlantic Properties Inc. for seven years.

He is involved in many professional activities such as Cape Fear Realtors, Investors Roundtable and the NCAR Commercial Forms Committee. He is also an active member in the community, volunteering with numerous organizations.

Thompson has held positions with New Hanover Regional Medical Center's Board of Trustees, including the role of vice chairman. He currently serves as a board member and secretary with Wilmington Downtown Inc.

Thompson has worked closely with ILM over the years and looks forward to participating in its success, officials said in the release.